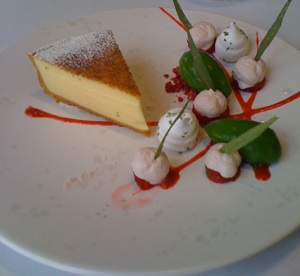 Last week, my good friend Mr Fonz and I treated ourselves to a nice lunch at Marcus Wareing's restaurant at The Berkeley Hotel in Knightsbridge. It was an interesting experience, particularly because of the fact that I'm usually not much of a 'frills' sort of person. We opted for the set lunch at £38 each for 3 courses, simply because it's a nice way to sample the delights of a Michelin 2-starred restaurant at a reasonable price (the a la carte and dinner menus would have set us back at least £100 each!).
A bit of history
Marcus was a prized disciple of the famously foul-mouthed Gordon Ramsay. Under Ramsay, Marcus opened up Petrus at The Berkeley. It was a very successful restaurant, gaining 2 Michelin stars. However, Marcus and Gordon had a rather high-profile falling out. Because the restaurant was owned by Ramsay's company, he still owned the rights to the name. Marcus managed to buy out the restaurant in a legal battle, but lost the Petrus name to Ramsay. As a result, he renamed the restaurant after himself and Ramsay opened a new Petrus down the road.
The Environment
As you'd expect from a restaurant situated within a hotel that charges around £250 a night, 'posh' and 'pretentious' was the atmosphere that you got. It was a great experience, although I did feel a little out of place there, especially when your average hotel resident was walking around casually in a 3 piece suit.
The restaurant itself is actually a modestly sized room. It was nicely decorated, but didn't feel over the top. The overall atmosphere was cozy and understated. A pleasant place to enjoy your meal; some might expect a little more for the kind of status it holds.
The Service
If the decor was subtle, the service was definitely not. I was escorted to the toilets because they were not so obvious to find. When I came back, my napkin had been replaced and neatly folded. If my glass of water dropped to beneath about 25% full, someone would magically appear from nowhere to top it up. I'm not used to this. At first, I felt compelled to thank them each time, but eventually forced myself not to to save energy and awkwardness. I guess some of the more affluent diners were used to this and so had higher expectations, therefore saying less.
Everyone was delightfully friendly, even when we started asking seemingly unorthodox questions about what some of the terms in the menu meant (speck is ham, apparently), and why they did some of the things they did. I suppose they are paid to behave in this way, but my expectations are usually not that high so I was impressed nonetheless.
The only criticism of this type of attention is that if you're not used to it, it can seem overbearing, therefore making it difficult to relax. To start off with, there was someone at our table every time I tried to start a conversation. I don't see why all the top restaurants can't tone it down at least a little.
Starter
With each of our 3 courses, we were first given a mini 'experimental' dish to try out, which was a nice little bonus. First up for us were some sesame 'crisps' with an aubergine dip. Nothing special, but they would have been fine if they didn't contain the salt content of the Dead Sea. After most of the water had left my body via osmosis, we were brought a selection of interestingly flavoured breads along with butter. I love bread, and so I lapped this up. They didn't quite have that warm and 'freshly baked' taste that I've experienced before, but it was exceedingly good bread.
For our actual starter, we both ordered the pea ravioli with bits of apricot and ham/bacon. Oh, and pea flowers with a pea sauce. Garnished with peas. Obviously, they had a posher name for it, but I don't have the foggiest idea what it was. Note to posh restaurants: name your dishes things so that people don't have to ask what's in them. Or put in a layman's translation.
The presentation was nice, but I'm not that fussed about what it looks like. Taste is paramount. I tucked in. Oh look, more Dead Sea salt. I'm sure the ravioli would have been nice but all I could taste was salt, and I believe it came mostly from the sauce. As you can see, the sauce was difficult to avoid. It also had a strange aftertaste to it that I wasn't too keen on. This was definitely the worst dish of the 3, and I did mention the excessive saltiness to the waiter.
Main Course
The experimental dish before the main came in the form of a cappuccino-like object made from sour cream and other foamed delights. I'd always imagined that I'd only be drinking food when I end up feeding through a straw in hospital, but once again, the world of fine dining breaks down all preconceptions. The texture was nice, being that I enjoy frothed coffee-like beverages, but I'd rather have it have tasted of coffee too, rather than some sour (and honestly, slightly salty!) stuff.
For the main, I plumped for pollock and Mr Fonz chose the chicken. My favourite course. The fish fillet was in a nice neat little cube surrounded with greenish beans and other garnishes. The pollock was cooked perfectly – the best cooked fish I think I've eaten. It had a perfectly crispy skin on top. No harsh flavours, no excessive saltiness. A very well prepared dish. Apparently, the chicken was also very well cooked. Thumbs up here then.
Dessert
The experimental dessert dish looked like a strip of toothpaste. Except it was pineapple flavoured ice-cream, and was extremely refreshing. Not much to say here. A nice, but small, treat.
For dessert, both of us chose the custard tart. I can't remember what the other option was, but I remember it sounding pretty boring, so this one was a no-brainer. As you can see, I'd say this was the nicest looking dish we were faced with: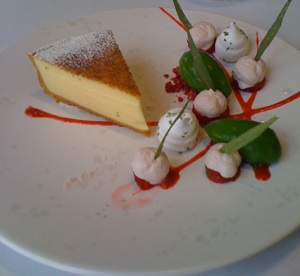 The custard tart was served with some strawberry (or raspberry) sauce, dollops of cream and strawberry ice-cream. Finally, the green blobs you see were tarragon flavoured ice-cream. Yes, you heard me correctly. The custard tart was very nicely done – it had a gentle flavour and lovely, smooth consistency. For me, the best part of any tart is the pastry, and again, this was done to perfection. Solid enough to hold together and add crispiness, but brittle enough to break and crumble. However, it did seem a bit 'boring' for a dessert in this sort of establishment, and considering that this was the better of the choices, it was a little disappointing. I guess that's what we got for taking the so-called 'cheap' lunch option.
The one thing neither of us could stomach was the tarragon ice-cream. Up until this, although I'd had issues with saltiness and some of the flavours, there wasn't anything that I'd left. I really tried to like it, but in the end, my tongue could take no more. As it melted, I frantically tried to stop it from running into my precious tart with mixed success. Mr Fonz also left his share, and we both shared our puzzlement at this choice of flavour with the waiter. Politely, I exclaimed "I think it's a bit of an acquired taste". That it was, but I'd like to see some statistics on what percentage of diners had genuinely 'acquired' a taste for it.
Finally, we were brought a selection of freshly-made chocolates. We tried each of the 7 or 8 flavours in a mini tasting competition and concluded that the banana caramel truffle was the unanimous winner. Some of the flavours were quite ridiculously overpowering (fennel?!), and I think this sums up the whole dining experience. Simple and effective ideas were somewhat tarnished by needless pretence (by way of adding strong flavours) where it wasn't needed.
Oh, and finally finally, we were given the painful bill. I must say though, that by London prices, it wasn't bad. Also, I appreciate the practice that some of the more exclusive restaurants are employing – to add a 12.5% service charge automatically to the bill. I don't see why waiters aren't paid a fixed fee like any other profession. The process of tipping seems haphazard and unfair.
In summary…
Marcus Wareing at The Berkeley turned out to be a mixed bag of delights and, well, salt. It was certainly a unique culinary experience. But I have been to places that are cheaper and have left me more satisfied in the stomach (notable example: Pearl by Jun Tanaka, which I think dominated Marcus Wareing in every way). Sure, a lot of what we paid for were the frills that came with the dining, and they were entertaining. I'm also sure that the reputation and Michelin rating added a premium to the price. For me though, none of the frills are worth it if the core – the food – is not up to par. After all, the food is why I go out to eat in the first place.
To try to balance the argument, I'd considered that maybe the full dinner and a la carte menus had better dishes. From what I read, the dishes did indeed sound more interesting. But, as Mr Fonz was quick to point out, a highly acclaimed restaurant should have the same excellence in taste throughout its inventory.
Marcus Wareing at The Berkeley. A restaurant whose food was preceded by its reputation.